04 Apr

What Will Social Media Marketing Cost You In 2019?
Last month we promoted our digital marketing services on ADreach street poles in Bryanston, Fourways and Randburg. Interestingly enough, the majority of the queries we received, were about social media services.

This come as no surprise, because studies show that top brands around the world are flocking to social media platforms. The trend is to generally allocate up to 20% of their marketing spend on social media.

The reasons for this are also pretty obvious. Here are our top five:
Stats indicate that the average person spends up to 6 hours a day online. So if you want face time with your target audiences, this is where you'll find most of them.
You can tailor your target audiences to a large degree, which increases your chances of reaching the right people, exponentially.
The exposure you can obtain on social media, in relation to what you pay for it, is mind-blowing. Simply put, social media advertising is significantly more cost-effective than many other mediums of advertising. Especially when you have budget constraints.
Whatever your objective is on social media, to create awareness, educate and inform your target audiences, or increase leads and sales, social media channels enable you to monitor performance, track conversions and measure ROI.
People check whether you have a website to determine whether you're credible. But to determine what your service is like, they go to social media. This is where people go to compliment or complain about companies.
 
Now, naturally, it is of the utmost importance to manage your social media presence professionally. Lately this is often where the majority of your target audiences make their first contact with you. But you may not have the know-how or the resources on board to manage your social media. Which probably leaves you with the question: What Will It Cost Me To Have Specialists Like BWD Do It For Me?

So, we've taken the mystery out of it and created three simple social media packages for you to choose from. Which outlines all the details completely transparently. Here it is:
PACKAGE PRICING – PLEASE CHOOSE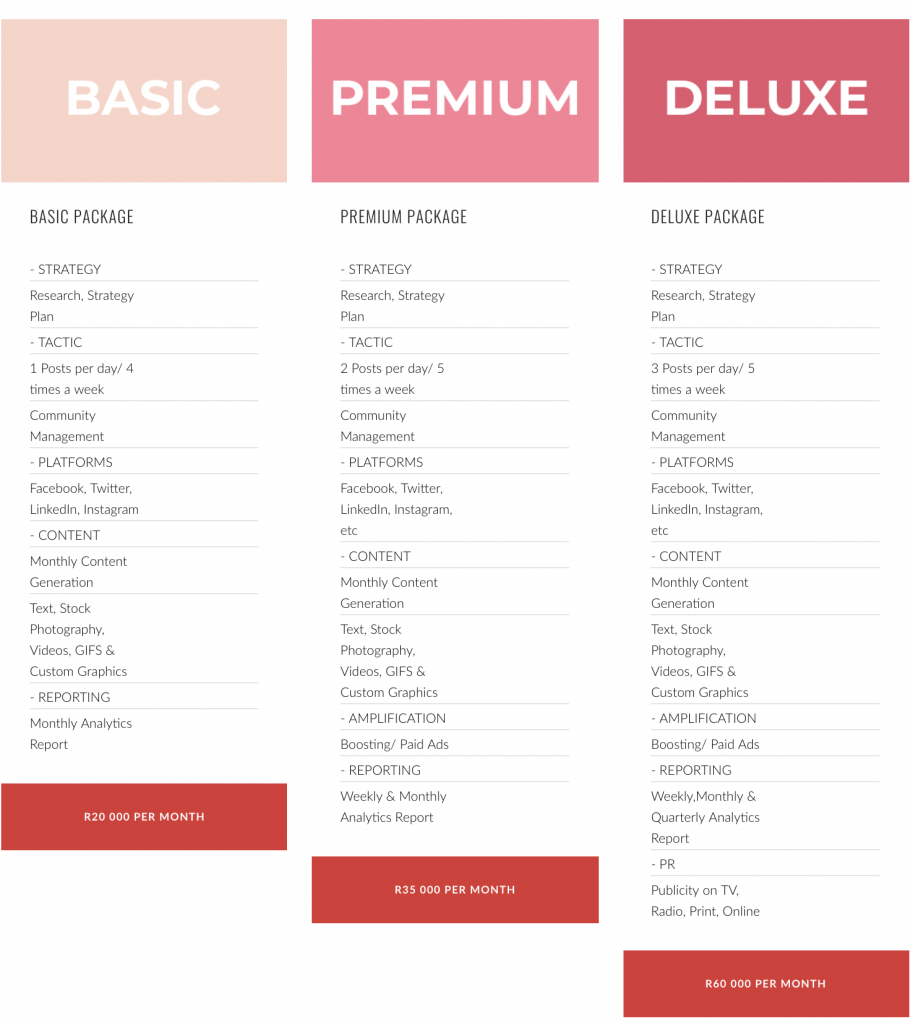 We would also love to introduce you to your A-team, who will be at your beck and call.
YOUR "A" TEAM
You can rest assured that we don't do 'copy and paste' solutions. So your social media strategy will be customised to help drive and support your specific business goals and objectives. Our Deluxe package also includes conventional media and PR, which aims to achieve optimal exposure in the news for your company, which encompasses in-print, online and broadcast media such as radio and TV.

Our pricing is highly competitive, and it is our expert opinion that it is more economical than having an in-house social media team. You can click here to compare the numbers.

Most importantly, we firmly believe that we will add true business value for you. In fact, so confident are we of this, that we are willing to give you one month's trial social media services, for completely free.