10 Sep

Growth Against All Odds
Good day,
As best said by Benjamin Franklin: "Without continual growth and progress, such words as improvement, achievement and success have no meaning." This is especially true for brands, as this business landscape we find ourselves in today, is becoming increasingly competitive. For this reason, brands are now compelled to continuously reach above and beyond to differentiate themselves.

Recently, we've been honoured to form part of such a growth journey of numerous leading brands. One such brand, is Harvey World Travel, who decided to evolve their brand identity for the first time in more than two decades.

By brand identity, of course we mean all those visible elements of a brand that sets it apart and that enables it to become imprinted in the hearts and minds of its target audiences. This includes their logo and corporate colours, which are more commonly referred to as its 'look and feel'. This new identity was announced with great flair at one of their annual conferences that was hosted in the Drakensberg, in July. You can take a look at what we've done for them here.

In the sports industry, we assisted the Bizhub Highveld Lions Cricket Team with the design of a professional franchise team kit for the 2019/2020 season. This included a comprehensive range of kits for different applications, all of which was launched on the 1st of September 2019. Click here to see what it looks like.


In the pharmaceutical space, we conducted a brand awareness campaign for Dawanol, a Kenyan pain killer, which necessitated us to learn a bit of Swahili in the process.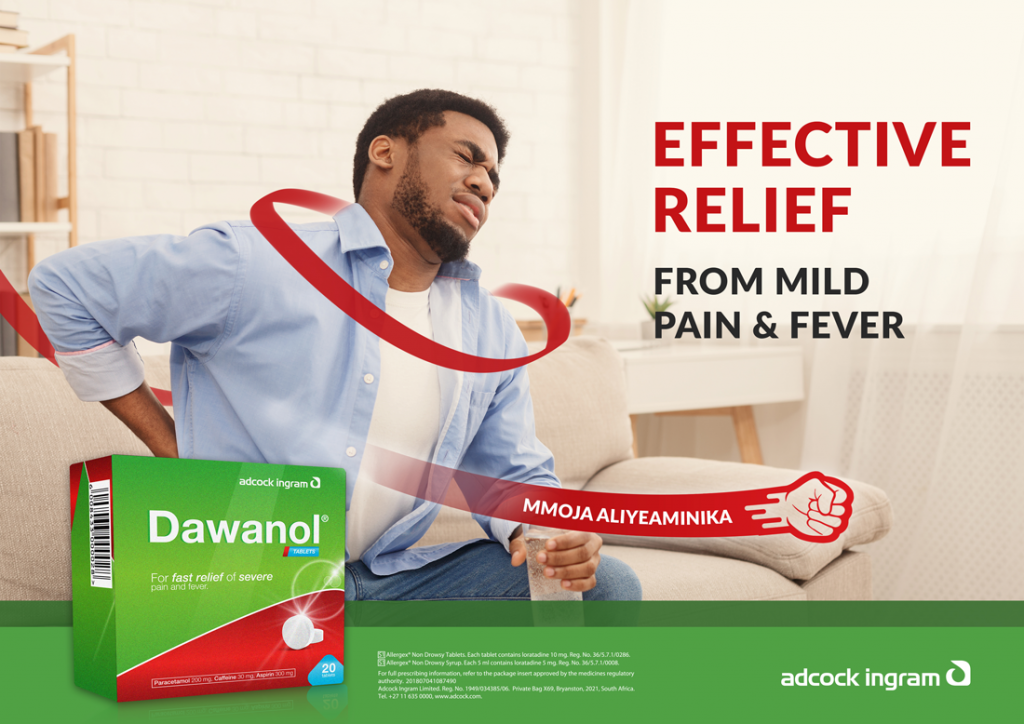 A major highlight for us, is the fact that one of our key pharma clients, namely Allergex, was listed as one of the 50 Icon Brands for 2019/2020.

The 2019/2020 Icon Brands ranking was developed in partnership between Ask Africa, City Press and Rapport, based on results sourced from the TGI Survey. This is the largest of its kind in our country, that analyses measurements from no less than 19 sectors, hundreds of product categories and thousands of brands.
By definition, Icon Brands are those brands that unite us as South Africans, that we are loyal to, and through which we share a common experience, often on a daily basis and in the real sense of the word. They are the brands for whom we will put our money where our mouths are to demonstrate this commitment, or even look for when we are abroad.

We are super excited about this accomplishment for our client, and both humbled and proud for the contribution we were able to make – to help them get listed.
Now, over to growth on a more personal level. If you are looking into furthering your studies in the year 2020, we believe Unisa is the natural choice, as it is 'the largest open distance learning institution in Africa and the longest standing distance education university in the world.' A key advantage of studying via Unisa, is that you can study and work in tandem. Follow this link to view the comprehensive range of courses that are available.

We were fortunate to help Unisa create a dedicated campaign, with a singular objective in mind: to stimulate uptake for enrolment in their courses through an aggressive strategy that is based on three pillars: awareness, consideration and conversion. Take a look at ongoing campaign here and let us know what you think.
In conclusion: growth is always at the centre of what we do. As per our own mantra; "we grow, when you grow." So, if you need to tap the minds of some of our specialists to help you accelerate and achieve your own growth objectives, please feel free to get in touch for a coffee date.
Warmest regards,
Bongani Gosa
CEO

011 321 0193 – Joburg
021 003 8021 – Cape Town